Jude Bellingham scored Real Madrid's opening goal, and it was a fantastic display of cooperation in the encounter versus MU in the United States.
.
Real Madrid only needed 5 minutes to concede MU on the NRG field in Houston (Texas) with a fantastic combination.When Bellingham dropped down to face the goal, centre-back Antonio Rudiger launched a long pass from home that ripped through the MU defense.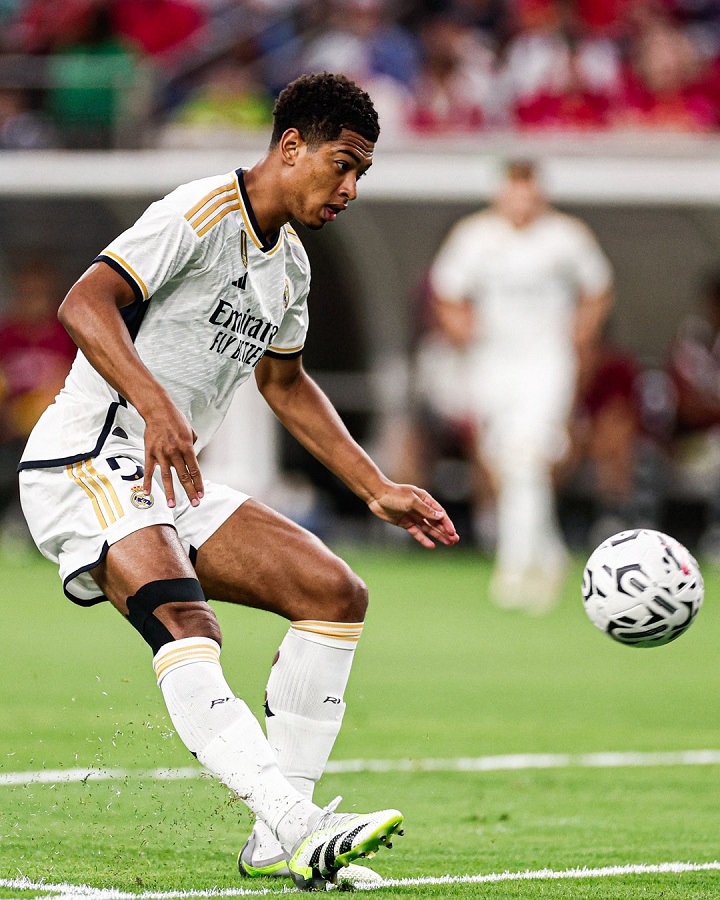 The English midfielder made a lob over the head of goalkeeper Andre Onana, who is valued over 50 million pounds, to open the scoring for Los Blancos.
Another eye-catching event in the 32nd minute of the €103 million contract pleased. After receiving the ball from Vinicius Jr, Bellingham dribbled it like Zinedine Zidane, deceiving two MU players before the shot was stopped. in the penalty area.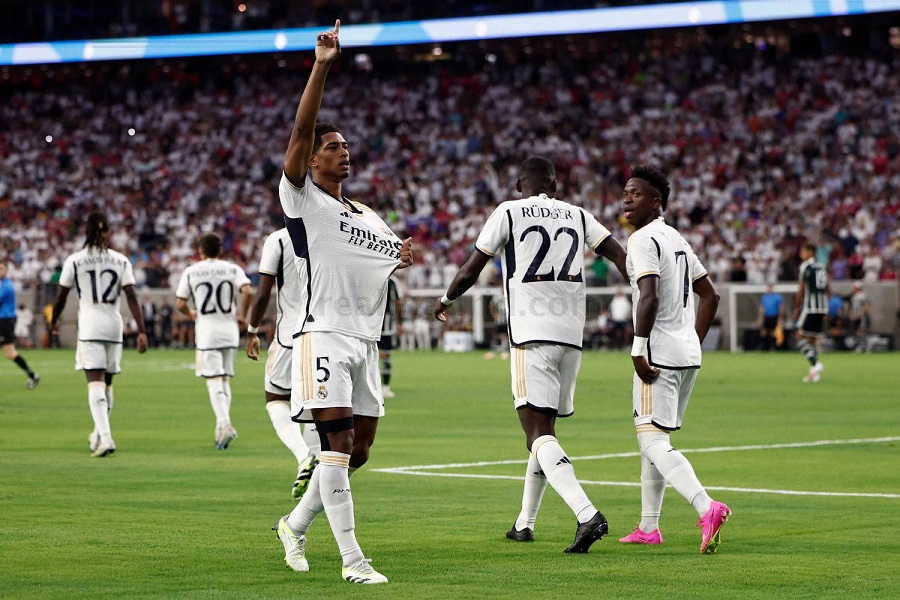 In the first half, Bellingham had 32 touches of the ball, was fouled three times, won a duel eight times, passed precisely 16/18 times, dribbled successfully 2/3 times, shot twice, and scored a table.
In the second half, MU played better than in the first, when there was absolutely no opportunity. Alejandro Garnacho was named goalie after Bruno Fernandes, Luke Shaw, and Mason Mount performed dangerous acrobatics against Lunin's goal. Ukrainians must save.
However, as they approached the equalizer, MU gave up a second goal.Toni Kroos and Lucas Vazquez's excellent passes enabled rookie Joselu to comfortably complete a "reverse bike" in the penalty area, leaving goalkeeper Onana simply observing.The MU defenders are totally to blame in this case.
.
Result
Real Madrid 2-0 Manchester United
Scoring: Bellingham (5), Joselu (89)
Squad
Real Madrid: Lunin, Carvajal, Alaba, Bellingham, Vini Jr., Modric, Rodrygo, Camavinga, Tchouameni, Fran Garcia, Rudiger.
Militao, Lucas, Nacho, Mendy, Kroos, Valverde, Joselu, Brahim Diaz, Nico Paz come on instead.
Man Utd squad: Onana, Wan-Bissaka, Varane, Martinez, Shaw, Casemiro, Mainoo, Fernandes, Mount, Garnacho, Rashford.
Dalot, Antony, Maguire, Sancho, Van de Beek, Lindelof, McTominay, Pellistri and Brandon Williams come on as replacements.